Tire gauges
are vital tools to keep on hand when you're traveling or maintaining your vehicle. They help you maintain proper tire pressure and avoid a flat or uneven tire by letting you know when your tires are under- or over-inflated.
There are several different types of tire pressure gauges to choose from, including stick and digital models that can be purchased online or at local automotive parts stores. The best tire gauge is one that suits your needs and vehicle type.
If you have a dual-head tire setup, such as on a heavy truck or RV, look for a model with a swivel chuck to make it easier to connect to the valve stem of each tire. You should also consider a unit with an easy-to-use bleeder valve for quick and convenient inflation or deflation without disconnecting the gauge from your tire valve.
The best tire pressure gauges feature a readable display, and they're durable enough to survive a lifetime of use. They're also affordable, making them an excellent choice for drivers and mechanics alike.
Choosing the right tire pressure gauge for your needs involves several factors, including size and weight. Small, lightweight gauges can be stored in a glove box or drawer while more robust options are larger and designed to withstand rough handling.
Features
When looking for a tire pressure gauge, consider whether it has the essential features such as a swivel chuck, a readable display, and a bleeder valve. Check the warranty information and customer service contact information to ensure you'll be able to reach someone should you need it.
Digital Gauges
If you prefer a digital model, look for a model with an electronic LCD display that's easier to read and more resistant to damage from dust and dirt. Digital gauges also often have a backlit screen, making them more readable in low light conditions.
These are usually more expensive than dial gauges, but they are less likely to break or wear down quickly. You'll need to replace batteries regularly, though.
They typically measure in PSI (pounds per square inch) but some models are able to calculate kPa and bar, which are commonly used outside of North America.
In addition to a readable display, the best tire pressure gauges will have some kind of flashlight built into them, and they should be sturdy enough to withstand repeated abuse. We tested two models that lasted years of regular use with little damage to their dials and displays.
Those are the most important things to consider when selecting a tire pressure gauge for your needs. Once you've picked the perfect unit, make sure it's easily accessible and that it's compatible with your vehicle and driving habits.
Lastly, be sure to test the pressure gauge in the field to see how well it works with your specific tire setup. It's a good idea to test it in your vehicle before storing it in a garage, as extreme temperatures can negatively affect the functioning of some gauges.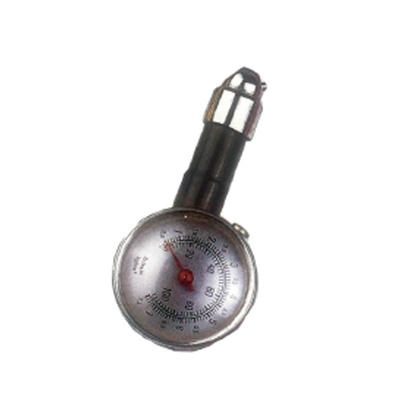 Tire Pressure Gauges-ECG-001