The valve stem is the part of the tire that protrudes from the rim and is used to inflate or deflate the tires. It also serves to check the pressure of the tires. If the tires are under-inflated, they can reduce fuel economy and wear down faster; if they are over-inflated, they can cause loss of control when driving and damage the tires.
A tire's pressure can be affected by a variety of factors including weather conditions, temperature and speed. To ensure that the tire's pressure is always at its optimal level, the valve stem should be in good condition.
Choosing the Right Valve Stem
There are two basic types of
tire valves
: Presta and Schrader. Each type has its own unique features and characteristics.
* Presta Valves: These valves are thinner and longer than Schrader valves. They are opened by unscrewing a small cap on top of the valve and then pushing down on the inner pin to allow air to pass through.
They're commonly used on bikes because they provide a more secure seal than Schrader valves and allow finer adjustments to the air pressure of the tires.
Each valve is rated for a maximum PSI (pounds per square inch) range and should be checked regularly. High-pressure valves should be used on tires that are designed for higher load capacities or for those that will be exposed to extreme heat.
A valve core is a smaller, metal piece that threads into your tire's valve stem. This prevents the tire's air from escaping when you are changing or cleaning your tires. The valve core is usually screwed into the tire's valve stem tightly.
When the seal is leaking, it's a sign that there is an issue with your valve core. You should replace the sealant in your valve core to prevent air loss.
In the case that the valve core is damaged, you should use a valve core replacement kit to replace it. These kits come with the necessary tools to remove the old sealant and insert the new one into your tire.
If you are unable to get the old sealant out, it may be necessary to drill a small hole through the valve core. Then, you can insert the new sealant into the hole.
Keeping Your Tires Properly Inflated: A Key to Safe Driving
To ensure that your tires are properly inflated, you should check the pressure at least once every month. You can do this by using a tire gauge or by manually letting out some air from your tires to make sure that they are at their recommended pressure.
Depending on the style of your rim, you will need to purchase the right size of tire valve. The smallest size is required for rims that are 0.9" wide and a larger one is needed for rims that are 1.3-1.7" wide.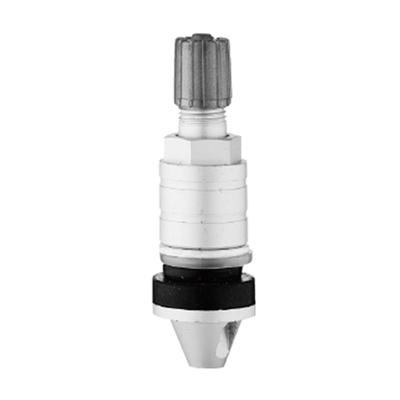 TPMS Valves-TPMS-03