A
tire inflator gauge
is a device that is used to measure the air pressure in a tire. It typically consists of a gauge (either analog or digital) that displays the tire pressure, and a nozzle or connector that attaches to the tire valve. Some tire inflator gauges also include a built-in air compressor, allowing you to inflate a tire to a desired pressure level. It is important to use a tire inflator gauge to ensure that your tires are properly inflated, as under-inflated tires can lead to poor fuel economy, reduced tire life, and increased risk of a blowout. Over-inflated tires can also lead to reduced tire life and poor handling.
Tire inflator gauges are used to measure the pressure of a tire before and after inflation. They are typically used to ensure that a tire is properly inflated to the manufacturer's recommended pressure, which can improve fuel efficiency, prolong tire life, and improve vehicle handling. The gauge is typically a separate device that is connected to the valve stem of the tire, and the pressure is read from a dial or digital display. Some tire inflator gauges also have a built-in air pump for inflating the tire.
Tire inflator gauges are important to have on hand if you want to make sure that your tires are inflated properly. This will help you save fuel and improve handling and performance. They are also great to have on your vehicle for long distance driving. If you are involved in an emergency situation, having a tire inflator with a gauge could save you a lot of time.
there are some advantages about tire inflator gauges,such as:
1.Improves fuel efficiency: Properly inflated tires can improve a vehicle's fuel efficiency by reducing rolling resistance.
2.Prolongs tire life: Overinflated or underinflated tires can cause uneven wear and tear, leading to a shorter tire life. By regularly checking tire pressure with a tire inflator gauge, you can help prolong the life of your tires.
3.Improves vehicle handling: Properly inflated tires can improve a vehicle's handling and stability, providing a safer driving experience.
4.Easy to use: Tire inflator gauges are simple to use, and do not require any special tools or equipment.
5.Cost-effective: Regularly checking and maintaining tire pressure is a relatively low-cost way to improve a vehicle's performance and prolong the life of its tires.
6.Portable: Tire inflator gauge are easy to carry and can be used anywhere with a power source.
7.Saves Time: With the help of tire inflator gauge you can check the tire pressure within minutes and inflate them to the desired level without visiting a service station.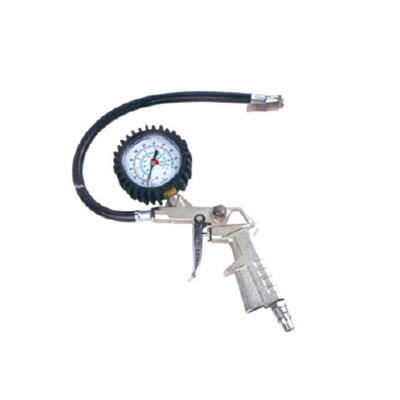 Tire Inflator Gauges-ECG-019A