Variable speed and control are significant advantages of
air tools
, allowing users to tailor the tool's performance to specific tasks and work conditions. 
1.Precision and Versatility:
Variable speed control enables users to adjust the tool's operating speed and power output to match the requirements of the job. This precision is especially valuable for tasks that demand finesse and accuracy.
2.Optimized Performance:
Different applications may require varying levels of speed and torque. Air tools with variable speed allow operators to optimize their performance for the task at hand, whether it's fastening, grinding, polishing, or drilling.
3.Reduced Material Damage:
For tasks involving delicate materials or finishes, the ability to reduce the tool's speed and power helps prevent damage. For example, when sanding or polishing, slower speeds can prevent over-aggressive material removal.
4.Increased Efficiency:
Adjusting the speed and power of an air tool can improve efficiency. For example, when using an impact wrench, a lower speed and torque setting may be suitable for initial fastening, while a higher setting may be used for final tightening.
5.Extended Tool Life:
By operating air tools at lower speeds when high power is not necessary, users can extend the tool's lifespan and reduce wear and tear on internal components.
6.Energy Savings:
Variable speed control can help conserve energy. When a task requires less power, running the tool at a lower speed reduces the amount of compressed air consumed, resulting in energy savings.
7.Noise Reduction:
Slower speeds often mean reduced noise levels, which can be beneficial in environments where noise pollution is a concern or where hearing protection is required.
8.Enhanced Safety:
When working with air tools that have variable speed control, operators can start the tool at a lower speed and gradually increase it, reducing the risk of sudden, unexpected reactions from the tool.
9.Customization for Different Materials:
Different materials may require different cutting or drilling speeds. Variable speed control allows users to adapt the tool's performance to the material being worked on, which can improve results and reduce the risk of damage.
10.Improved Control in Tight Spaces:
When working in confined areas, variable speed control enables users to have better control over the tool's movements, reducing the risk of accidents or damage to surrounding objects.
Thumb-Lock Air Chuck-EAC108T-1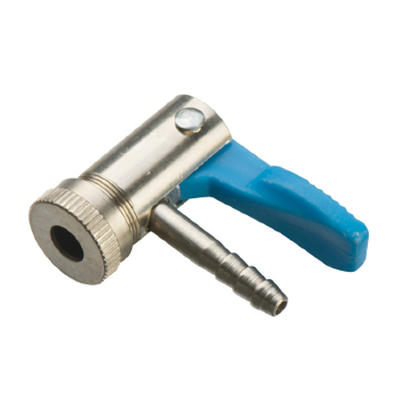 Part No.:EAC108T-1
Description:6mm