Tire Patches
are a great way to repair punctures in your tires. They are generally more durable than plugs but do require a bit more work to apply and seal properly. 
Tire Repairs: When to Use a Patch and When to Use a Plug
If you've tripped over a nail or screw while driving, you might need to plug your tire. This is a simple and inexpensive solution that can help keep your tire safe from future damage.
The key is to plug the hole as quickly as possible, so it doesn't get worse. Using a tool like an air compressor can quickly help fill the hole and stop it from getting bigger.
It's also important to check the tire pressure regularly and never let a puncture go too long without repairing it. Overtime, a puncture can cause the inner liner to become weak and tear.
Typically, when you're in need of a tire repair, it's best to call your local service center. They can take the tire off of the rim to access the inner liner and make a more effective repair.
A patch is a piece of rubber with an adhesive backing that is stuck to the inside of your tire. They are stronger than plugs but can be expensive to install.
They can be vulcanized after the puncture has been repaired, so they're a much stronger and more permanent fix than plugs. They're not recommended for any holes that are close to the sidewall, but they can be a great option for smaller holes away from the sides of your tire.
You can purchase a tire patch kit from any auto parts store that includes tools needed for the job and comes with a few patches to cover a few repairs. The kits are usually less expensive than a plugger kit, but they come with more tools and will likely cost $10 or more to purchase.
Before applying the patch, it is important to clean and roughen the area around the hole with a grinding stone to create a better bond for the patch. After buffing, the patch will be ready to be pressed onto the tire.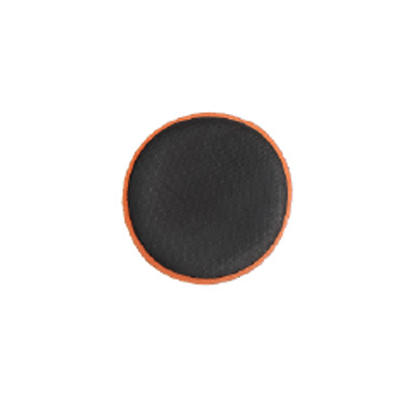 PART NO. :CP-201
DESCRIPTION:Red Round
SIZE(mm):Φ25
QUANTITY : 64pcs/bag